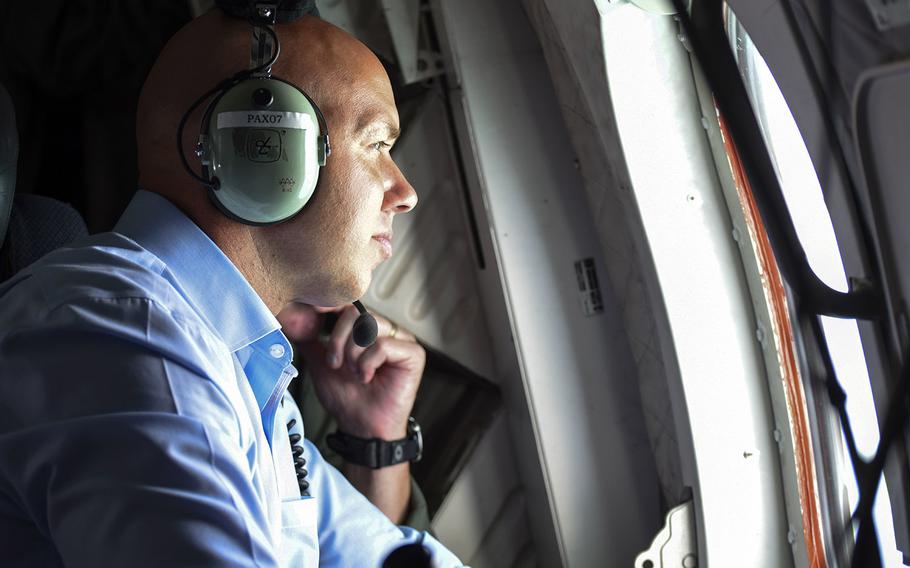 Rep. Brian Mast, R-Fla., looks out the window of a Coast Guard Air Station Miami HC-144 Ocean Sentry aircraft off the coast of Palm Beach, Fla., on Sept. 12, 2017. Mast flew with the Coast Guard for an overflight assessment of south Florida following Hurricane Irma. (Mark Barney/U.S. Coast Guard)
WASHINGTON — A congressman from Florida wants active-duty military officers to take charge of Department of Veterans Affairs medical centers, arguing the hospitals are plagued by crises and need a new leadership approach.
Rep. Brian Mast, R-Fla., an Afghanistan war veteran and double amputee, introduced legislation that would require the VA and Defense Department to develop plans for a pilot program in which senior military officers would serve as directors of VA hospitals. The VA operates 152 medical centers nationwide.
"At the end of the day, no one is better prepared to oversee veteran care than those who will one day be veterans themselves. That's what this bill is all about," Mast's office said in a statement accompanying the bill.
The measure was one of three bills that Mast introduced this week regarding the VA.
Another bill would allow members of the House and Senate to open congressional offices inside VA facilities. Mast opened an office at the West Palm Beach VA Medical Center in 2017 to be more accessible to constituents. Five Florida lawmakers followed his lead and opened their own offices at the West Palm Beach and Orlando VA hospitals.
The VA evicted them from the facilities in 2019, arguing the space inside VA facilities should be used for the primary mission of delivering medical care to veterans.
Mast said last year that he and the West Palm Beach VA had reached an agreement for him to reopen an office.
The congressman has argued that the offices allow easier access to veteran constituents.
"It does something good for our veterans while not hurting anybody," he said in a 2019 interview. "If you really want to understand a problem … you have to get your eyes on it and witness it yourself."
The third bill that Mast introduced this week would request departing service members sign an "Oath of Exit" not to harm themselves. Mast said he believes the oath could help deter veteran suicides.
Mast said service members are known for honoring their commitments — and if they commit to contacting fellow veterans before harming themselves, they'd do it.
Mast previously introduced an Oath of Exit bill in 2017, but it failed to pass through Congress. At the time, some experts on veteran suicide said the oath could backfire. When struggling with suicidal thoughts, veterans who sign the commitment could feel an increased sense of shame and guilt, they said.
Caitlin Thompson, the former director of suicide prevention programs at the VA, said experts in suicide prevention have been discouraging these types of contracts for the past 10 years.
"It isn't just that it didn't work. It actually had the opposite effect," Thompson said in 2017. "It made it so that the person who signed it wouldn't talk with their provider about feeling suicidal because of this fear of, 'I signed this promise.' "
Mast said in a statement that all three bills were potential fixes to longstanding issues within the VA.
"Hardly a day goes by when I don't receive a call from a veteran who needs help navigating the red tape of the VA," he said. "We owe it to them to explore creative solutions to ensure that they have the care that they need, which is why I'm introducing these bills."