Two types of morning people exist. Some roll out of bed and hit the ground running without giving much thought to breakfast, or even eating, for hours—move first, fuel later. Then, there are the ones who revel in a morning routine that very much revolves around food. Healthy breakfast ideas are constantly swirling as they slide out of bed to craft the perfect cup of artfully poured coffee.
There isn't necessarily a right morning person to be, but generally, I assume anyone who doesn't identify as a breakfast person simply hasn't found an AM meal they truly love. So, we're here to help. Below, I've rounded up a collection of easy, healthy breakfast ideas to suit every kind of morning mood, from sweet chia puddings and hearty favorites to nutritious takes on global-inspired brunches. And if you don't have time to sit and savor, no worries. There are plenty of make-ahead meals you could easily grab and go, too.
Make-Ahead Breakfast Ideas
Why we love it: Between the ease they offer and the extremely low effort they require, the joy of overnight oats truly knows no bounds. For anyone who thinks oatmeal is dull, this blueberry muffin-inspired recipe should change your tune.
Hero ingredient: It's not necessary to toast the oats for 10 minutes, but it adds a solid kick.
Why we love it: You know the feeling. You're about to order brunch, but you're torn between the soothing sweetness of oatmeal and something savory. With this whole oat-based porridge recipe, which can be made two ways (miso and avocado or butternut squash and ginger), you can have it all.
Hero Ingredient: We're going to give it up to either the ginger (anti-inflammatory) or the avocado (for its velvety smoothness) depending on which route you take.
Why we love it: No matter what season or weather you're experiencing, waking up to a bowl of tropical-inspired chia pudding is a cheery, antioxidant-packed way to kickstart any day.
Hero ingredient: Between the fiber and nutrients, chia's list of benefits (all delivered in a low-calorie vehicle) are seriously vast.
Why we love it: In keeping with the vacation-inspired theme, these overnight oats, paired with mango, banana, and coconut milk, make for a sunny start.
Hero ingredient: Beyond the oats, topping your dish with Toasted Coconut Blue Diamond Almonds adds an extra far-flung feel.
Gluten-Free Starts
Why we love it: This could really be called the "Whatever-you-might-have-in-your-fridge frittata."
Hero ingredient: For those adhering to a gluten-free diet, browned eggs are a top-notch vehicle for enjoying a savory breakfast.
Why we love it: If the idea of gluten-free baking conjures up dry, bland baked goods, this luscious, sweet recipe (which also happens to be dairy-free) will be a game-changer.
Hero ingredient: The details are key when it comes to nailing gluten-free baked goods (Camille learned a lot from a bit of trial and error). This is a rare case when add-ins (like cinnamon, vanilla, and almond extract) are particularly important.
Why we love it: Both gluten- and dairy-free, Brooklyn-based baker Lani Halliday's go-to blueberry muffin recipe also serves as a nourishing, energy-boosting snack.
Hero ingredient: Use almond or hazelnut flour for baked goods that are naturally gluten-free.
Why we love it: These easy-to-make cups of goodness can be made ahead and enjoyed as a wholesome start all week.
Hero ingredient: The fresh, citrus-like taste of dill is hard to describe, but the flavor is undeniable.
Insanely Simple Breakfast Ideas
Why we love it: When I set out to curate a few simple, tasty-looking recipes, I didn't expect to find something so beautifully uncomplicated and, frankly, beautiful.
Hero Ingredient: It's all about the egg here, with the nonstick frying pan (an ingredient of sorts) coming in at a close second.
Why we love it: These power green-packed bites encompass two of our favorite recipe qualities: they can be made days ahead of time, and they're incredibly easy to whip together.
Hero ingredient: The eggs may be the ones gluing it all together, but it's the dark leafy greens (kale, chard, or spinach) stealing the show.
Why we love it: Matcha is so often served in dessert form, it's easy to forget how healthy the ingredient really is. That being said, there's still a touch of sweetness thanks to a banana, vanilla, and almond milk base. But it's still healthy, promise.
Hero Ingredient: Matcha provides the caffeinated burst you need to start your day without the threat of crashing.
Hearty Favorites
Why we love it: Don't let the name intimidate you. The only foreboding thing about this recipe, inspired by a popular off-the-menu breakfast hash at Dallas' Kozy Kitchen, is how addicting it becomes.
Hero ingredient: The paleo-approved dish is packed with protein. Make it with bison meat for a leaner alternative to ground beef.
Why we love it: It's not exactly groundbreaking, but we'll always love any and all avocado toasts. Crushed red pepper flakes elevate this particular variation.
Hero ingredient: Perfectly ripe avocado is, naturally, the secret weapon for this dish.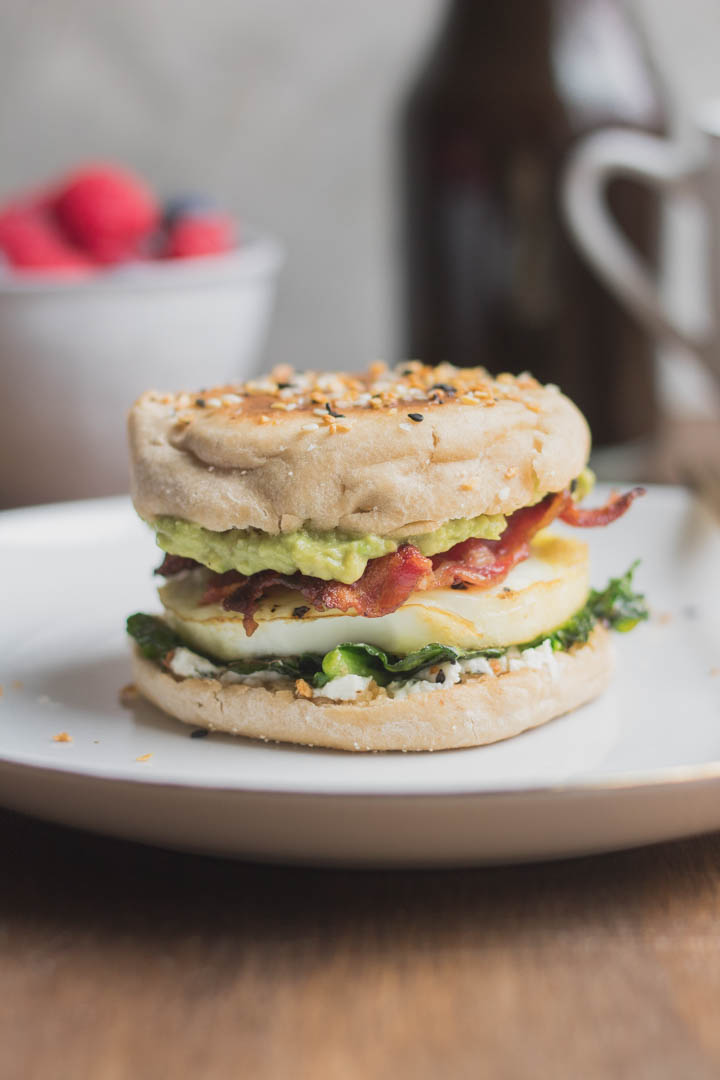 Why we love it: They said it couldn't be done, but thanks to recipe developer Danielle Davis, you can indulge in a breakfast sandwich that's as healthful as it is satisfying.
Hero Ingredient: Everything Bagel Seasoning from Trader Joe's. It could make a paper bag taste good.
Why we love it: Inspired by a dish from the beloved, all-day café in New York, the not-too-sweet bowl offers a hearty, antioxidant-filled breakfast.
Hero ingredient: In addition to the nutrition benefits, açai powder will help keep you full for hours.
Why we love it: A good breakfast bowl is always a wholesome, nutrient-dense option, but this superfood-filled recipe raises the a.m. bowl bar.
Hero ingredient: If you're looking to start your day with healthy protein, you can't do much better than quinoa.
International Inspiration
Why we love it: This traditional Indian dish might just be the most flavorful breakfast you can make.
Hero ingredient: In addition to fragrant herbs and spices, getting the eggs silky smooth is important.
Why we love it: A mix of kale, avocado, bell pepper, and eggs offers a balanced breakfast, but we're always pro anything that doubles as a clean, healthy dip.
Hero ingredient: With so many ingredients mixed in, the eggs are what holds it all together. But never underestimate the power of garlic.
Why we love it: This healthy dish is popular in Israel and any U.S. brunch menu you're lucky enough to find it on. Made with an incredibly flavorful tomato sauce, Shakshuka will warm you right up.
Hero ingredient: Perfect poached eggs are the key.
Why we love it: The classic Vietnamese sandwich gets a vegan, gluten-free twist thanks to the Minimalist Baker, where you can also learn more about the origins of the grab-and-go staple.
Hero Ingredient: Cauliflower proves, once again, that it can truly do it all.