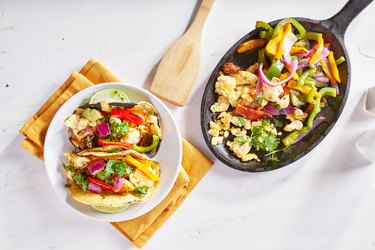 Real talk: Nobody has time for complicated breakfasts, especially on busy mornings. But you can still achieve a healthy a.m. meal by simplifying with single-skillet breakfasts.
You cook everything in one pan, making prep and cleanup a breeze — because we could all use fewer dirty dishes.
These 15 simple breakfast skillet recipes will streamline your morning routine.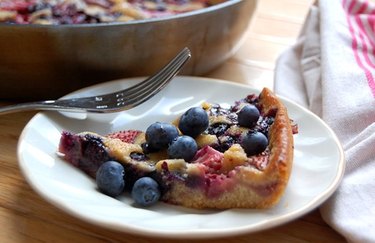 Healthy breakfast or decadent dessert, you decide. Fresh, mouth-bursting blueberries and strawberries steal the show while a golden crust — made with a mix of whole-grain oat flour — provides filling fiber to keep the belly rumbles at bay until lunch.
2. Southern-Style Green Breakfast Skillet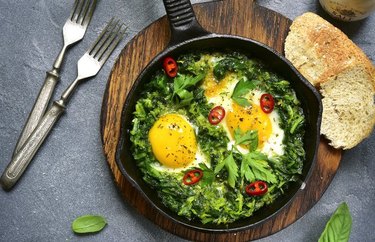 Chances are you're not getting enough greens in your morning meal. Luckily, this breakfast skillet will change all that. Brimming with baby Bella mushrooms, kale and shallots, you'll be on target to hit your daily veggie quota with this nutrient-rich egg breakfast.
3. Stuffed Turkey Breakfast Skillet Burritos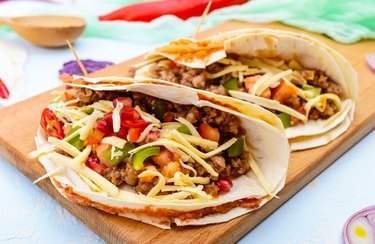 These easy-breezy breakfast burritos are just what you need for busy mornings. Loaded with lean ground turkey, veggies and salsa, they have equal parts protein, fiber and flavor.
These turkey burritos are great for grab-and-go breakfasts. Simply wrap them in parchment paper and foil for a perfectly portable meal.
4. Wild Mushroom and Baby Spinach Egg Skillet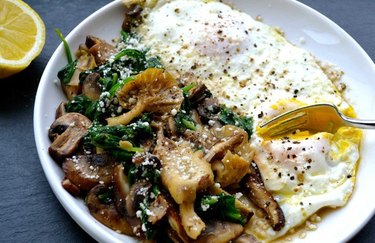 This egg skillet recipe is the definition of simple and satisfying. All you have to do is sauté spinach and wild mushrooms until they're slightly wilted, then add eggs to the pan. That's it. Once you transfer your vegetable-egg mixture to a plate, squeeze a little lemon and sprinkle with cheese and pepper for flavor.
5. Vegan No-Bake Skillet Apple Crisp
This sweet skillet meal is like eating apple pie for breakfast, only healthier. With whole-food ingredients like crunchy walnuts, unsweetened coconut flakes and old-fashioned oats, you can make this incredible apple crisp in a single skillet on your stovetop. It's ready in just 15 minutes, no baking required.
6. Cauliflower Breakfast Skillet Casserole
We love morning smoothies and oatmeal bowls as much as the next person, but sometimes only a hearty egg breakfast like this one will hit the spot. This one-pan meal is full of protein-rich foods like chicken sausage, eggs and cheese and lower in carbs (only 9 grams per serving) thanks to cauliflower florets.
7. Chicken and Veggie Breakfast Skillet
"Chicken and veggies" sounds like the start of a dinner recipe, but believe us, it makes a beautiful breakfast too. A medley of mushrooms, onions, broccoli and potatoes paired with hearty chicken sausage will keep your stomach satiated for hours. And depending on what produce you have on hand in the fridge, you can always vary up the veggies.
8. Skillet Breakfast Tacos With Chorizo and Sauteed Tomatoes
Once you try these salivating skillet breakfast tacos, you'll wish every day was Taco Tuesday. Between cheddar cheese, juicy chorizo and fresh cilantro, this savory skillet meal delivers an explosion of flavor in every bite. Got leftovers? These tasty tacos are terrific for lunch and dinner too.
This savory shakshuka will kick off your day with heat. The cayenne pepper and curry powder in this simple skillet dish of poached eggs will liven up lethargic mornings.
The best part of this one-pan masterpiece (besides its brilliantly bright flavors) is the quick clean-up.
10. Spiced Potato and Egg Breakfast Skillet with Avocado
This convenient breakfast skillet comes together with only a few pantry staples and is a winner. All you need are eggs, cheddar and potatoes to piece together this one-pan of perfection. Top it with cool, creamy avocado, ripe cherry tomatoes and a sprinkle of sliced green onions and cilantro.
11. Spicy Ham and Potato Breakfast Hash
Go ahead, sink your teeth into this spicy ham hash. Potatoes seasoned with black pepper, serrano peppers and paprika provide a piquant punch that transforms a tired old breakfast into something brand new. Not to mention, a hint of heat will definitely put a pep in your morning step.
12. Spicy Rosemary Sausage and Potato Breakfast Hash
This isn't your average bland breakfast hash. Fresh rosemary brings a fragrant, earthy flavor while serrano peppers and paprika add a kick. If you're not a fan of spicy food, you can easily dial down the zest to your preferred level of piquantness by removing the rib from the serrano pepper.
13. Tuscan Veggie and Cheese Frittata
Stuffed with spinach, sun-dried tomatoes and red bell peppers, this flavorful frittata is the perfect vehicle for veggies. But you can add in any produce you prefer, making this delicious dish extremely versatile.
Even better, this fridge-friendly frittata lasts up to five days (think: one serving for every day of the workweek) to make breakfast a breeze on busy mornings.
14. Skillet Chipotle-Cauliflower Chilaquiles
Hearty, veggie-dense and delicious, this Mexican-inspired dish checks off all the right boxes and is begging to be added to your breakfast lineup. Spicy chipotle chilis beautifully balance a cool yogurt sauce while cilantro leaves lend a flourish of freshness to these plant-based chilaquiles.
15. Easy Vegan Breakfast Skillet
When you need an energizing meal in the morning, stick with this savory Southwest vegan breakfast skillet featuring a font of fiber-rich veggies and high-protein vegan sausage. You could even swap out the plant-based sausage for other protein sources like tofu, tempeh, chickpeas, pinto beans or black beans.
​Click the pin below to save these recipes for later!​